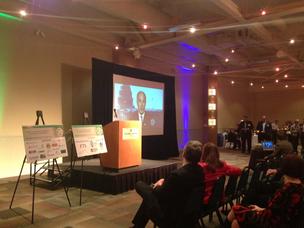 Thursday night's event celebrating manufacturing and Catalyst Connection's 25th anniversary.
It's never been a better time to be a small or medium sized manufacturer, was the message from
Irene Petrick
,
professor of practice
at
Penn State University's
College of Information Sciences and Technology.
Petrick was the keynote speaker Thursday evening at the annual manufacturing reception of
Catalyst Connection
. More than 300 people gathered to honor the region's manufacturing companies as well as celebrate the 25th anniversary of Catalyst, an organization founded to help small- and mid-sized manufacturers stay competitive in the global economy.
"The sector is just as important today as it was 25 years ago,"
Petra Mitchell
, president and CEO of Catalyst Connection told the crowd.
Some 2012 data points given by Catalyst:
By mid-2012, 97,000 people in southwestern Pennsylvania were employed in manufacturing. That represents the highest mid-year level since 2008 and is 1.1 percent higher than mid-year 2011.
Manufacturing wages for 12 months ended in mid-2012 were almost back to pre-recession levels totaling $1.3 billion.
53 manufacturing expansions were announced in 2012 representing 2,832 jobs. That's up from 2011 when 46 expansions were announced representing 1,957 jobs.
Mitchell told the crowd that difference in manufacturing today compared to 25 years ago is the rise of the small manufacturer.
The industry is being disrupted by the rise of high-performance computing that is changing modeling and prototyping; additive manufacturing is coming of age and new materials will come online; and the rise of cloud IT solutions will make level the playing field for small operations to compete with big ones, Petrick said. All these trends together with the rise of the Internet-savvy DIYer is bringing manufacturing back to the garage and back to the local community, she said. As a professor, she added she is seeing the demographic change already as students who grew up tinkering start looking at a future in manufacturing and making things.
"Manufacturing gets sexy again with the artisan entrepreneur," she argued, and manufacturing gets back to being a craft instead of mass production that tilted the competitive advantage to the large company.
Customers want customized products, and its the smaller operations that will be nimble enough and innovative enough to respond to that, she said.
However, Petrick noted she does have a rosy view of the future. There are challenges, she acknowledged, such as underdeveloped IT infrastructures at many existing firms, and the difficulty in figuring out exactly where markets are headed since change is occurring so quickly.
"The difference between a visionary and a crackpot is hindsight," she joked.
She suggested that companies look at how to use IT as a business advantage and when looking at the competitive landscape look into other sectors, even ones that are completely unrelated, to try to gather market intelligence.
Successful companies, she said, will be able to look what is happening in the market and say: "How do I solve a problem in that market?"