Study hard, and you'll get into the college of your dreams.
It's debatable whether that advice -- given to generations of American children -- was ever really true. But the first
Inside Higher Ed
poll of parents of pre-college students suggests that the truer statement today might be "study hard and you can get into the college we can afford," or perhaps "study hard, and we'll help you get into a college that can find you a job."
Only about 16 percent of parents are sure they won't restrict colleges to which their children will apply because of concerns about costs (although another 14 percent said that it was "not very likely" that they would do so), the results show. Parents are also likelier to see vocational certificates than liberal arts degrees as leading to good jobs for their children -- and they view job preparation as the top role for higher education.
And at a time that a case before the Supreme Court could limit the way colleges use affirmative action, the poll found that most parents (including most white parents) do not believe that affirmative action is costing their children spots in college.
Parental concerns about paying for college and the importance of college programs that prepare students for jobs appear to grow as children get closer to college age, the poll found.
The poll was conducted for
Inside Higher Ed
by Gallup as part of the polling organization's nightly poll of Americans on a range of subjects. These results are based on responses from 3,269 adults with children in the 5th through 12th grades. According to Gallup, the sample size yields a 95 percent confidence that the results are accurate within two percentage points. Margin of error may be larger for subgroups of the total.
A booklet with all of the survey data, plus related articles from
Inside Higher Ed,
may be
downloaded here.
Sticker Price Still Matters
For decades now, a consistent message from college and university leaders has been that potential students should not be scared off by sticker price, and should be open to applying to even the most expensive of colleges (judged by the rates for tuition and other expenses), knowing that so many colleges offer generous financial aid. To judge from the survey results, this message is not getting through in a consistent way to parents.
Two-thirds of parents say they are very likely or somewhat likely to restrict the colleges to which their children apply -- meaning that these future students may never know of the potential of financial aid to reduce the payments expected of them and of their families. And the likelihood of parents restricting colleges to which their children can apply goes up as the students get closer to college age.
Will Parents Restrict Colleges to Which Children Can Apply, Based on Tuition?
| | | | |
| --- | --- | --- | --- |
| Response | Child in 5th-8th Grade | Child in 9th-12th Grade | All |
| Not at all likely | 17% | 16% | 16% |
| Not very likely | 17% | 13% | 14% |
| Somewhat likely | 31% | 36% | 34% |
| Very likely | 33% | 34% | 34% |
Richard Ekman, president of the Council of Independent Colleges, said that the results should be "a wake-up call" to college leaders. Despite all the talk about the variety of ways that exist to pay for college, most parents remain unaware that tuition sticker price is not the only important number.
"We have to get people past this affordability mental block," he said. He said that there is a "tremendous amount of aid" being offered by colleges where the sticker price has very little relationship to what most students pay. Somehow colleges have failed to make people understand this, and parents are a crucial audience to reach, he said.
"I think that too many of us in higher education may assume that certain things are understood," he said. "They aren't."
Ekman said cost concerns relate to several economic issues. "Emphasis on jobs and on affordability has been building for a very long time," he said. "What's new is the tremendous acceleration of the emphasis of jobs at the same time there is a tremendous emphasis on affordability. And this is a direct consequence of the economic meltdown."
While this survey is new, and doesn't have past years for comparison purposes, it is clear that jobs are very much on the minds of parents.
Parents were asked to identify the most important reason for their child to go to college and the top answer by far (at 38 percent) was "to get a good job." The third most common answer (at 12 percent) was "to make money," while answers associated with more educational reasons lagged. Parents were given an option of "all of the above," but relatively few took that option.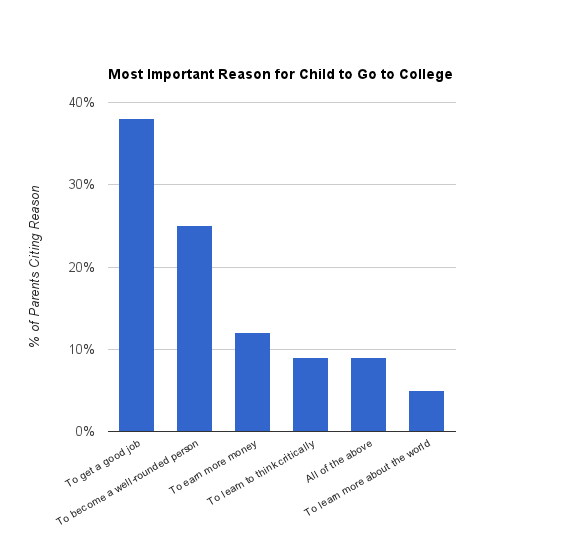 Breaking apart the data into those whose children are closest to going to college suggests that parental anxiety over jobs grows during those years. Consider the shifts in the top two answers. Of parents of children in 5th-8th grade, 35 percent said "to get a good job" was the top reason to go to college. But the figure rose to 41 percent for parents of 9th-12th graders. And the percentage saying that "to become a well-rounded person" as the top reason fell from 27 percent to 24 percent.
Potentially alarming to colleges is that many parents do not believe that going to college is a necessary step to getting a good job -- notwithstanding what President Obama and many educators would say, citing
plenty of data
to back up their points. In recent years a growing number of pundits and politicians have
questioned the idea that everyone benefits from college
-- and the
Inside Higher Ed
poll results suggest that some parents (a significant minority) agree with this critique.
Parents were asked to respond to the statement: "I am confident that there are ways other than going to college that could lead my child to a good job." On a five-point scale, where 5 was "strongly agree," 31 percent answered 5, and another 16 percent answered 4. Only 19 percent strongly disagreed.
Parents were also asked whether they believed a liberal arts education or a vocational/technical/professional program would lead to a good job. The results show that parents are more likely to strongly believe that no college at all can lead to a good job than to believe that a liberal arts education can lead to a good job.